The television channels are littered with reality shows regarding home improvement and conversions and most of us sit enthralled but think we could never do it ourselves. Mark Collins had a different approach however. Despite a complete lack of skills or experience in the building trade he set about converting a huge stone barn he had purchased in 2004 and the results are nothing short of spectacular.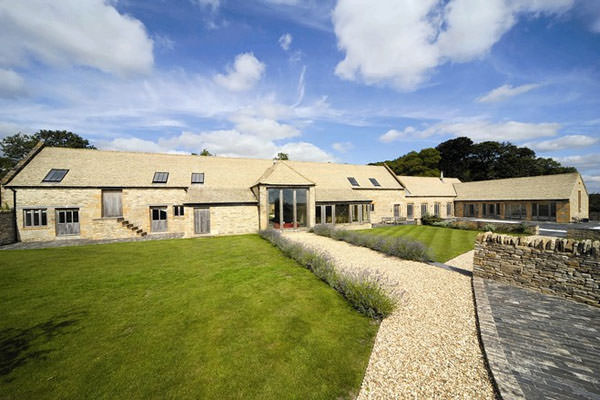 This enormous building set amongst the beautiful surroundings of the Cotswold is now real show stopper that is warm, welcoming and the perfect location for country living. The barn itself is believed to have been built in the 10th century and its conversion from a run of the mill stone barn into a sumptuous 5 bedroom home has to be seen to be believed. Its contemporary interior is an absolute delight and Mark has included such impressive features as a gym, sauna, art gallery and the piece de resistance; a sublime spiral staircase completely encased in glass.
The entire project was Mark's idea and his imagination proved to have no bounds. Due to his lack of experience when it came to the design of this dream home he collaborated with local craftsmen and builders. Together, they came up with a design that maximised the potential of the barn which measure 50m in length, has 750 m2 of living space and a further 250 m2 of functional space in the basement.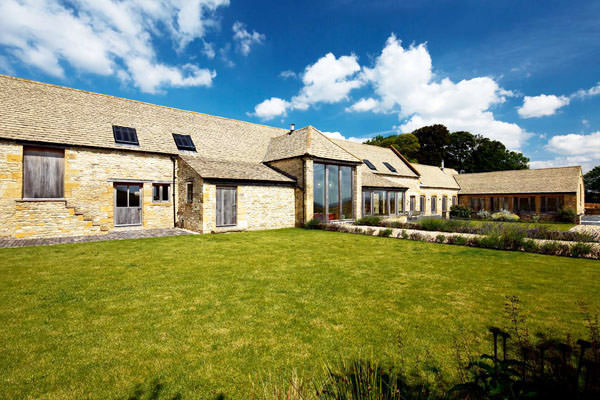 Mark secured planning permission to convert the barn to serve two separate purposes; one part residential and the other to serve as office space. As Mark is the director of a large telecommunications company the combination of living and work space really appealed to him as he instantly realised the potential of the barn. Combining the beauty and character of the building with its striking original features with a contemporary interior that works perfectly was a stroke of genius.
The work itself took 5 years to complete. 80% of the original barn was removed and what remained underpinned. The barn required a whole new roof and this was achieved using a completely new structure comprising of oak with steel supports. Mark carried the cool, clean lines throughout the conversion using a limited palette of colours and such natural materials as oak, stone, steel and glass.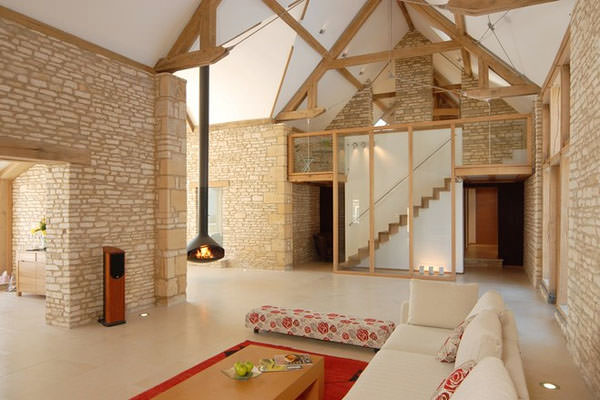 Keen to make the most of the immense living space Mark wisely went for an open concept as opposed to splitting the barn up into numerous separate room. This not only maximises the space but also gives it a wonderful flow, as well as functionality. On the ground floor there are 2 bedrooms, the kitchen, a dining room and a day room. The lower ground floor boasts a studio, art gallery, library and entertainment suit. On the first floor you will find a master bedroom that really has the wow factor, an office and 2 further bedrooms.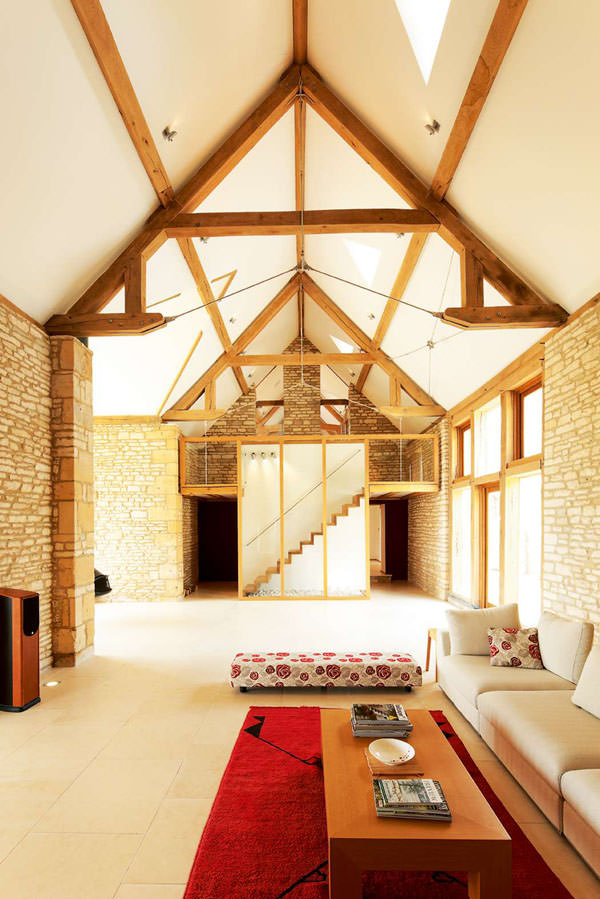 Each space has been cleverly and tastefully furnished to give a minimalist feel without it seeming bare or sparse. The natural warmth of the wood combined with the fabrics used in the soft furnishings leave you in doubt that this is a home, even though it certainly wouldn't look out of place in those glossy, coffee table magazines. What Mark lacked in building skills he more than made up for in vision and imagination, and his property now thoroughly deserves the title of dream home.
Marks website can be found HERE if you would like pat him on the back for a job well done!
Further photos below which continues to show off this beautiful property.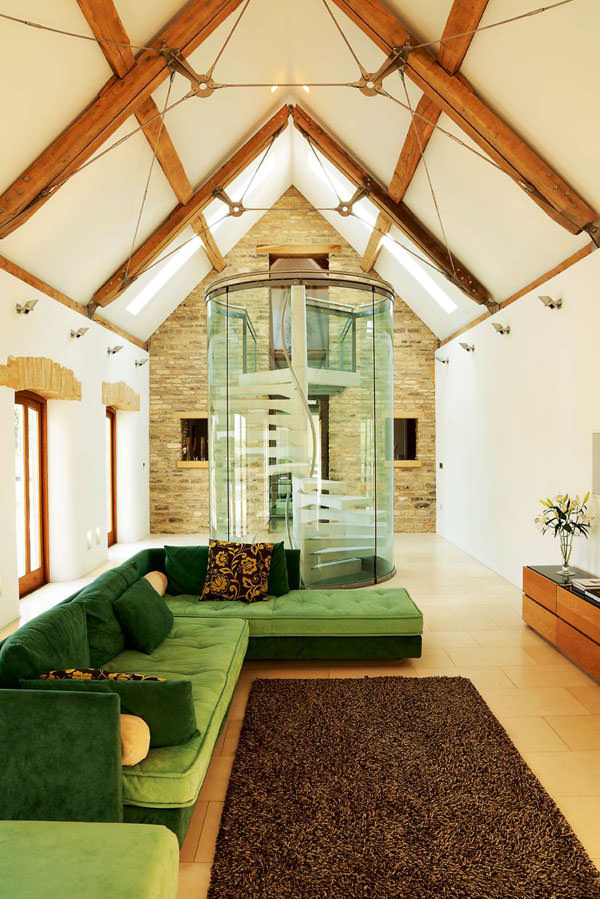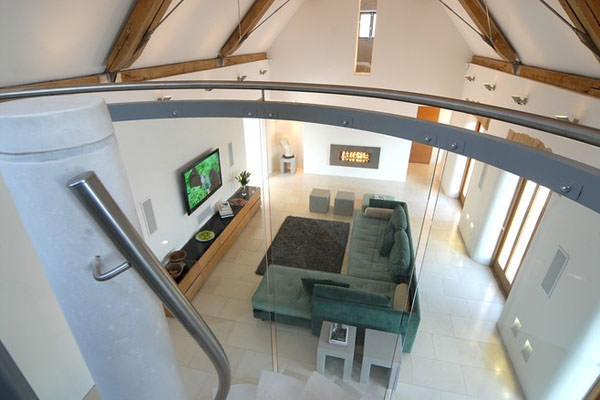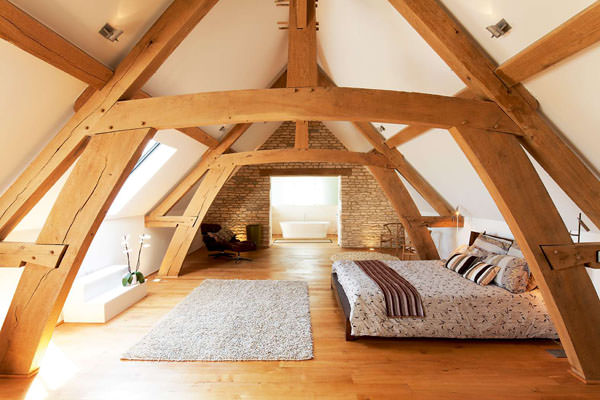 If this has been helpful we would love it if you shared it with your friends!